StormInfo expert analysis
The Expert Analysis service includes a daily video from one of our meteorogist and a text based discusion. It includes discussions of overall activity factors as well as a daily detail analysis for all tropical disturbances, depressions, storm or hurricanes. An example of the discussion on the day of Hurricane Charley is shown below. It was updated several times during the day as the situation changed.
PC Weather Products Tropical Discussion (updated daily by Noon EDT)
Friday August 13th, 2004.
Today is CHARLEY DAY.
4PM update
Cat. 4 Charley is over Charlotte Bay with 144 MPH winds. This radar image is compliments of www.weathertap.com... a great low priced provider of weather information. Check it out.
2 PM update
Charley has quickly become a CAT 4 storm forecast to move onshore in the Port Charlotte area. The map below shows the possible flooding along Charlotte Bay. Wind damage will be extensive.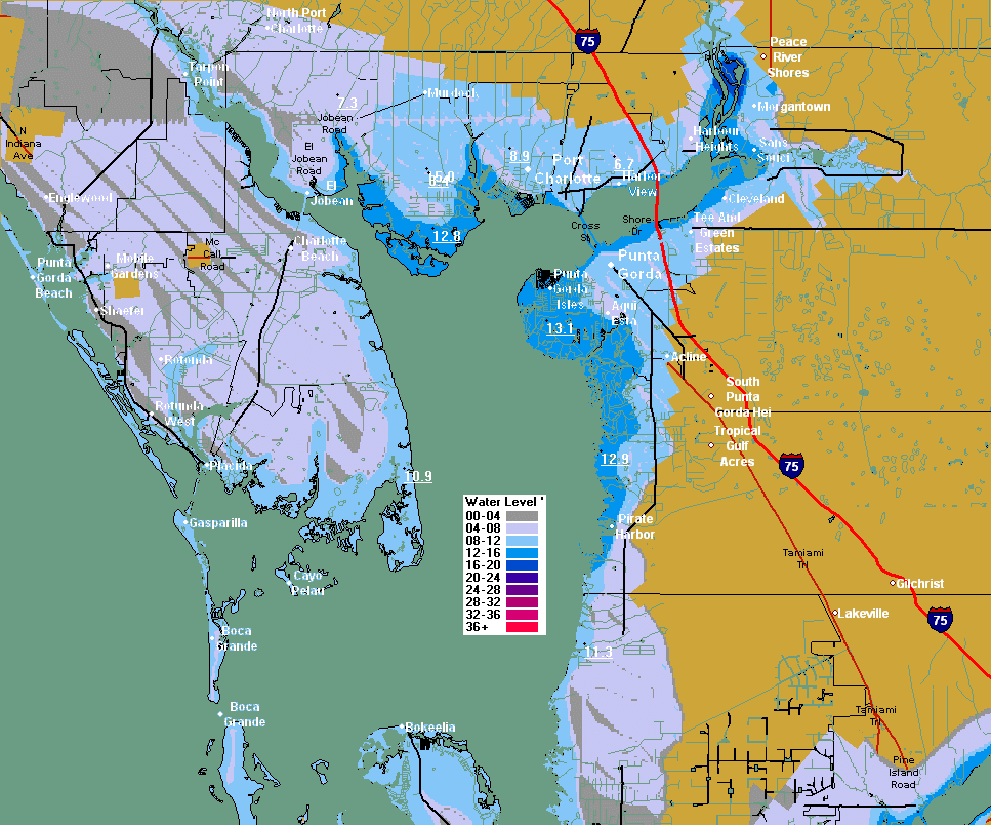 12:25 PM update
Recon and radar images suggest that Charley may be making a move to the NE....this will give Tampa a break but affect areas more towards Fort Myers and Charlotte Bay. This may also cause more problems up the eastern seaboard.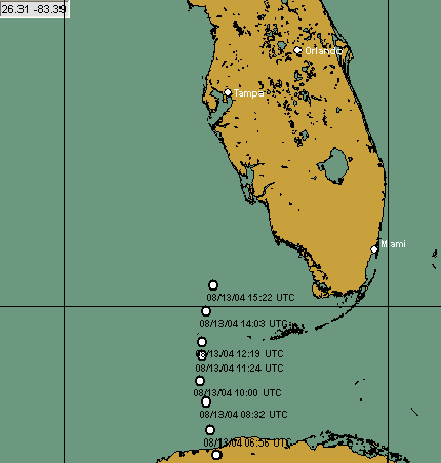 Gerneral:
We have a strengthening Cat 2 storm which passed over the smallest part of Cuba, practically unaffected by that Island. It is passing over very warm waters of the SE Gulf of Mexico in August and headed toward Tampa/Sarasota. This is potentially the biggest storm event in Florida since Andrew. Of course, the exact path of the storm will dictate the extent and area of damage. A path that takes the storm to the West of Tampa Bay could cause extensive storm surge flooding damage, while 40 miles to the East would lessen this considerably. As of 5 AM the forecast is right over Tampa Bay as a Category 3 hurricane.
Intensity:
Charley is deepening slowly this morning, with a central pressure of 970 mb, but all forecasters are worried about an explosive type development over the next 12 hours.. A deepening storm hitting the coast has much more of an impact than a steady or weakening one.. i.e. Andrew. Sea surface temperatures are warm in this region with temps running in the upper 80s.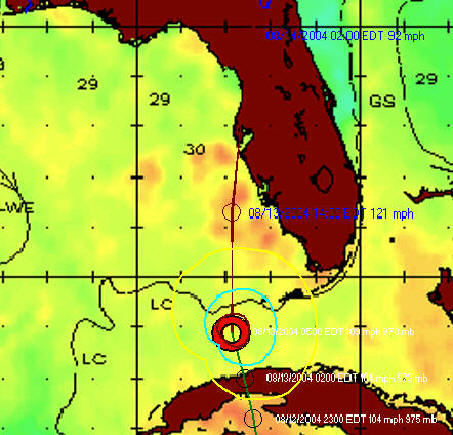 We will be watching RECON all day to see if a quick deepening trend occurs. The image below shows the RECON vortex fixes as it passed over the smallest portion Cuba near Havana. It was nearly unaffected.
The eye is small with a good structure and it shown nicely on the Key West Radar below. This radar image is compliments of www.weathertap.com... a great low priced provider of weather information. Check it out.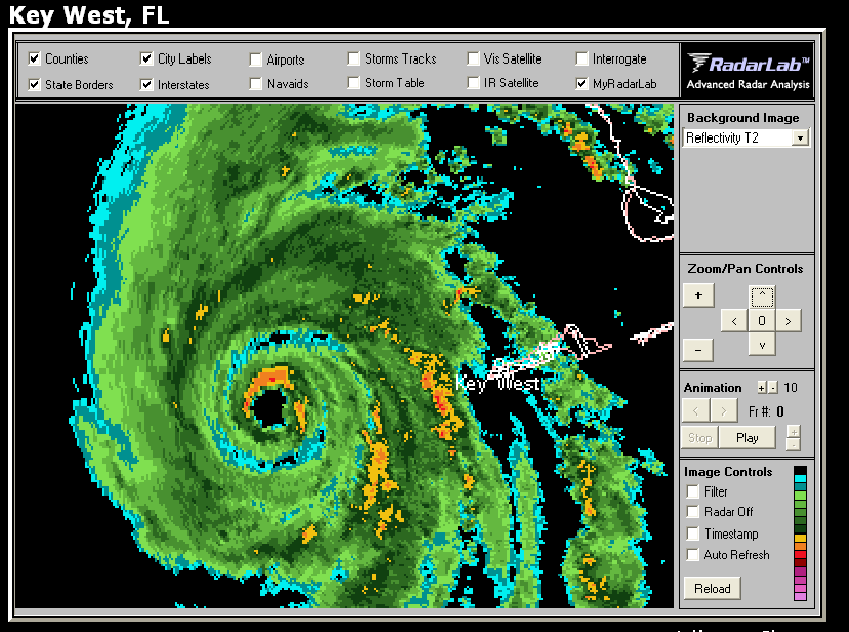 Motion:
The storm has been on a steady NNW path for the past 12 hours and has been forecast very well by NHC. I have no reason to vary from their predicted path which takes it over Tampa/ Sarasota area in about 12 hours. While an average error at 12 hours of 45 miles is small, today it will make a big difference.
Impact:
As we mentioned earlier, a storm to the West of Tampa Bay will push water up the bay causing some storm surge flooding. The good news here is that we have a fast moving storm so the affects will be lessened . A storm to the east of Tampa Bay would have the affect of pushing water out of the bay.. a preferable scenario. Wind damage to the area will be based on the intensity of the storm and if it is deepening upon landfall. Our new Advanced Wind Estimation method has shown that there is a huge difference in the 10 Meter wind speed between open exposed areas and inland, less exposed areas. The map below shows the forecasted position of the storm at 7 PM tonight. It does include the advanced wind estimation calculations. Note, while the sustained winds over exposed areas are forecast to be up to 114 MPH, inland winds are in the range anywhere from 80 MPH down to 40-50 MPH depending on location.. Remember these are sustained winds.. gusts will be higher. You can see how a difference of 40 miles makes a big difference on what conditions can be expected.... especially with this small storm.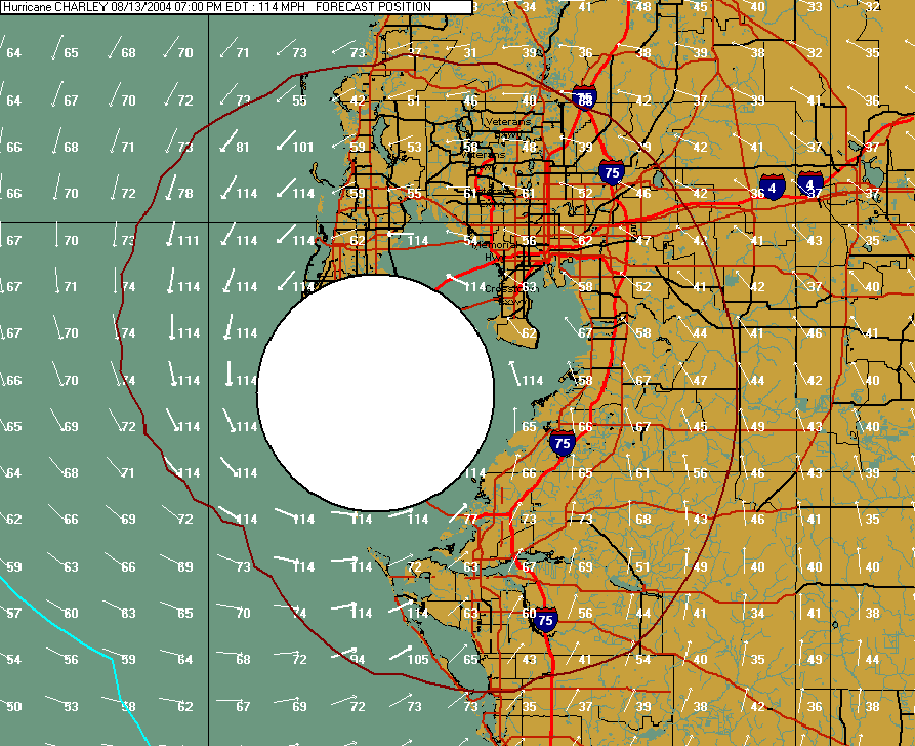 Stay tuned today for updates on this storm situation.
Oh... by the way.. NHC is watching 2 other areas in the Tropical Atlantic which may develop into tropical cyclones over the next 2 days. Welcome to the true Hurricane Season :-) .
Click here to see a current IR satellite image of all Atlantic activity
Click here for a satellite animation (IR)
George Sambataro
Chief Meteorologist